---
Quests
The Dragonshore Campaign
The Dragonshore Campaign is a set of quests that run in sequential order and test the players against a variety of encounters and skill challenges. 'The Crypt' is the first quest and the starting point for the Dragonshore campaign. The quests are listed below in their storyline order, which also is their order of difficulty. You can start any individual quest you like, or you can follow the campaign from top to bottom, the choice is yours!
Map of Dragonshore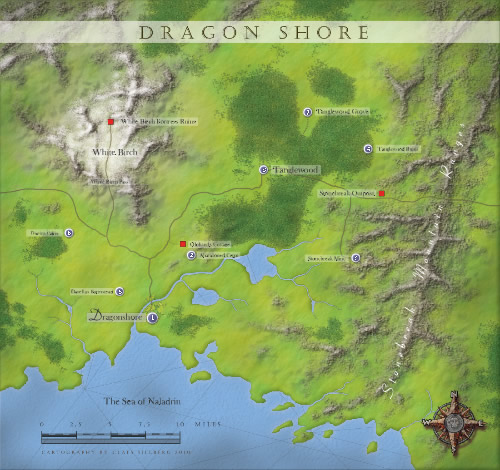 Quests

All quests found here are designed for 2 Players (Control both PC's if your running these quests solo)
= Map Location




The Town of Dragonshore
Town Map and Points of Interest




A Growing Rat Problem
Level 3
Type: Side Quest



The Crypt (Tutorial)
Level: 1
Type: Main Quest (1)
Weapon Crate Delievery
Level: 2
Type: Side Quest (Part A)

Tanglewood Temple Ruins
Level: 3
Type: Side Quest (Part B)

Corellas Letter
Level: 3
Type: Main Quest (2)



The Masters Orders
Level: 4
Type: Main Quest (3)

The Keeper of the Grove
Level: 5
Type: Main Quest (4)

Taker
Level: 6
Type: Main Quest (5)

The Last Chamber of The Duskshell

Level: 7
Type: Main Quest (6) - Campaign Ending
4e Dungeon Crawls
Dungeon crawls are simple, straight up hack n slash. They are not part of the dragonshore campaign and have no background storyline.
Goblin Halls
Level: 2
Temple Ruins
Level: 3

3.5e Quests
The Crypt
Tutorial (New players should start here)
Level: 1

---